Queen Elizabeth II Commemorative Coronation Mug by Richard Guyatt for Wedgwood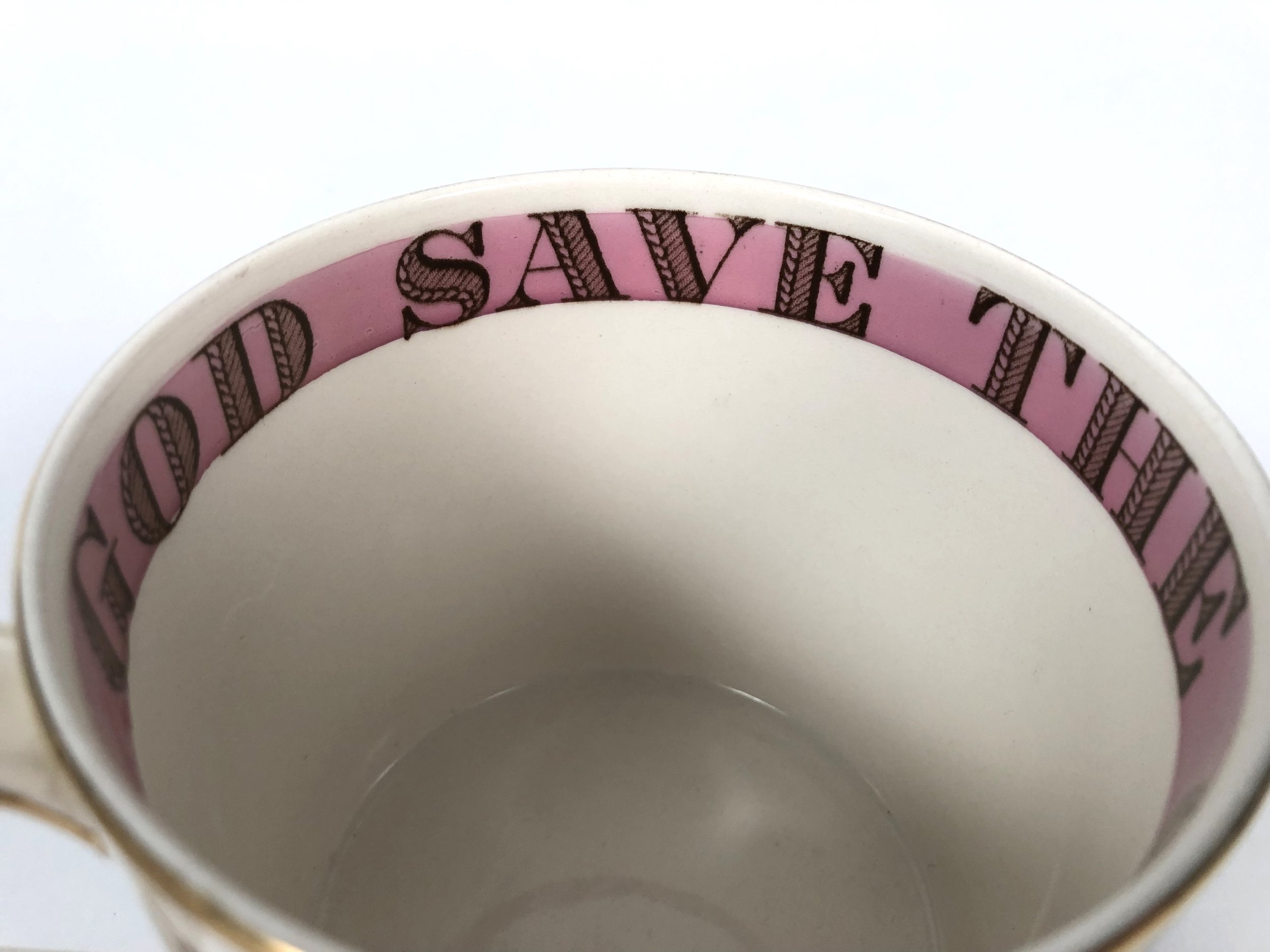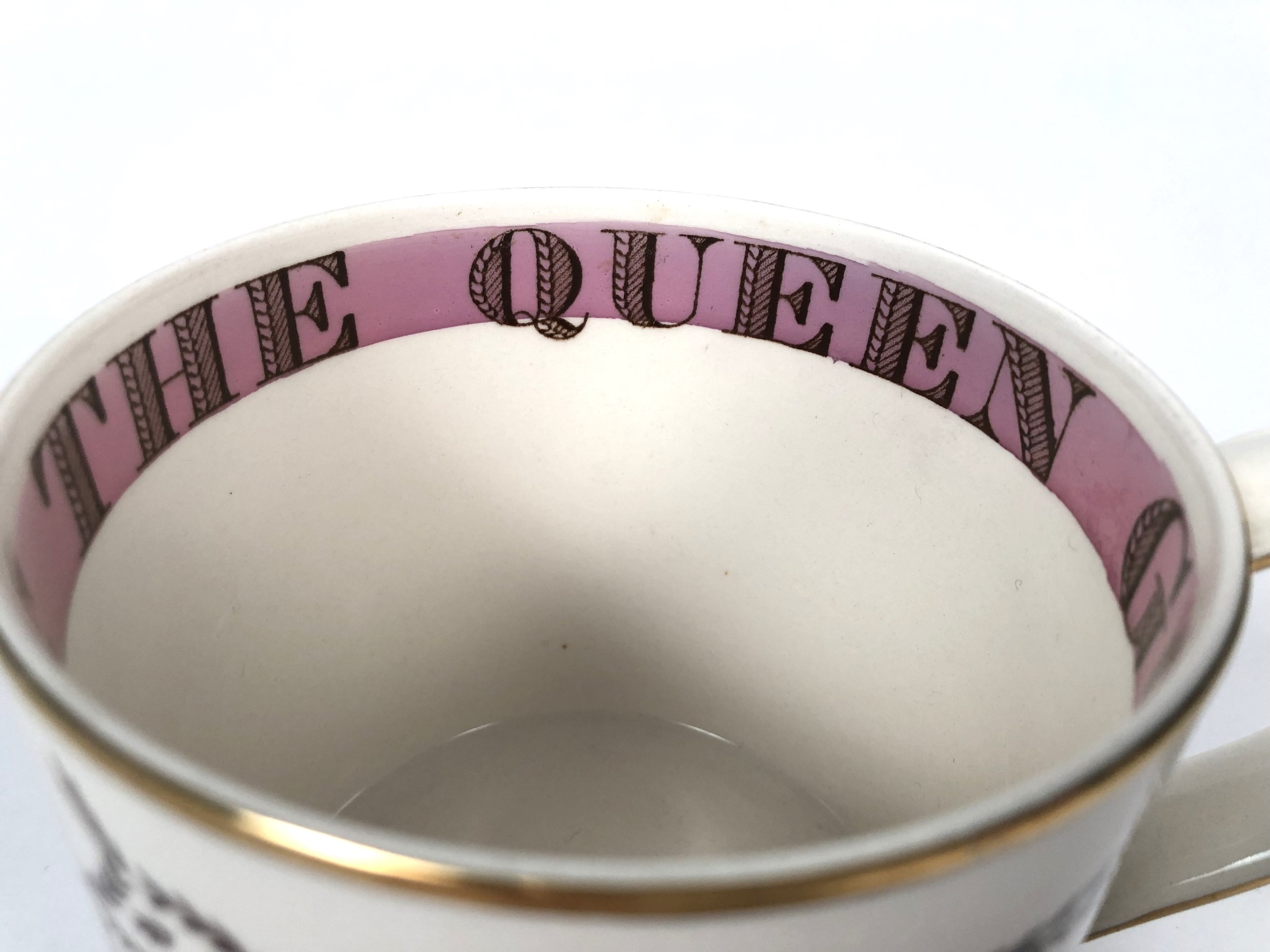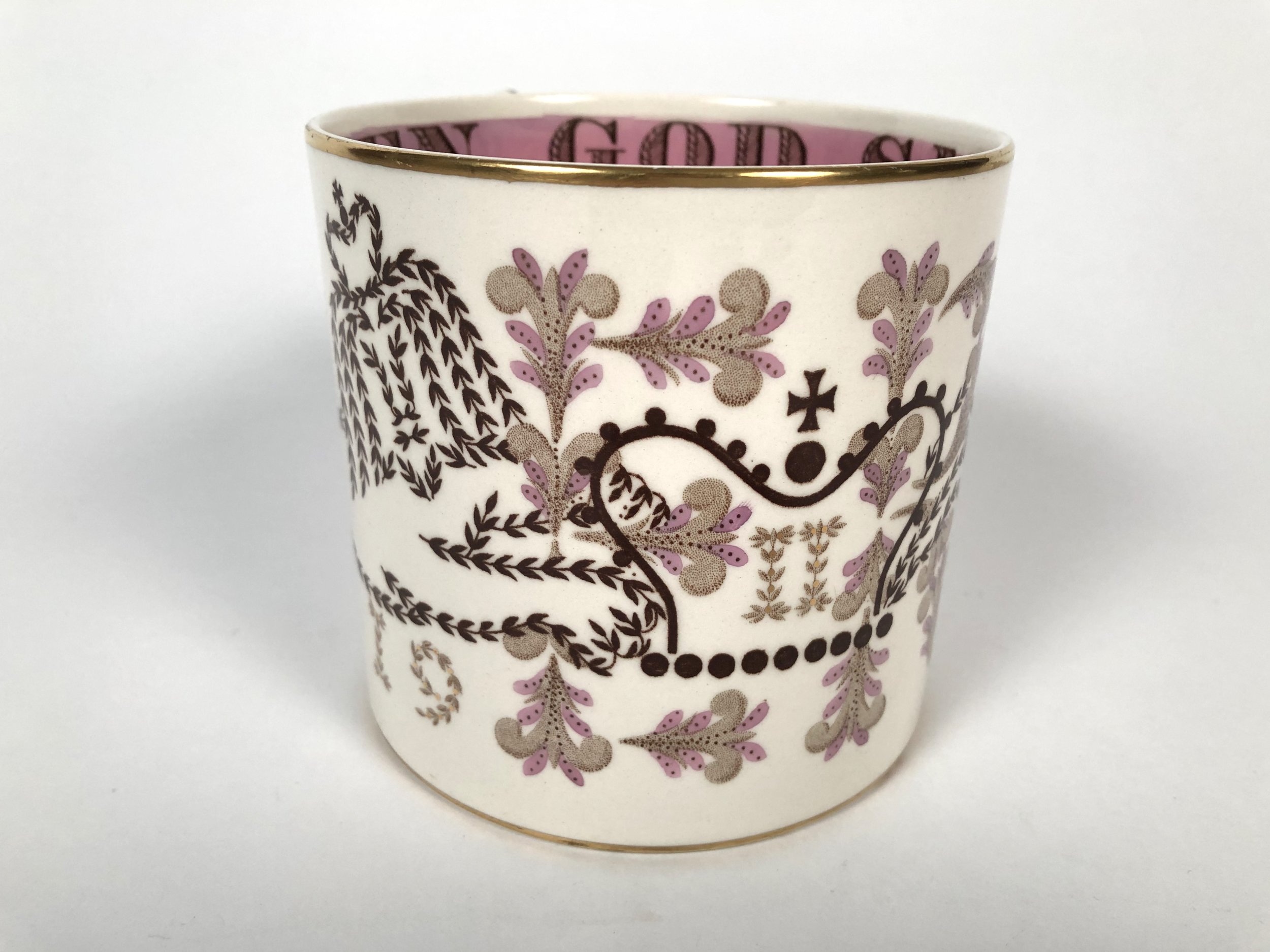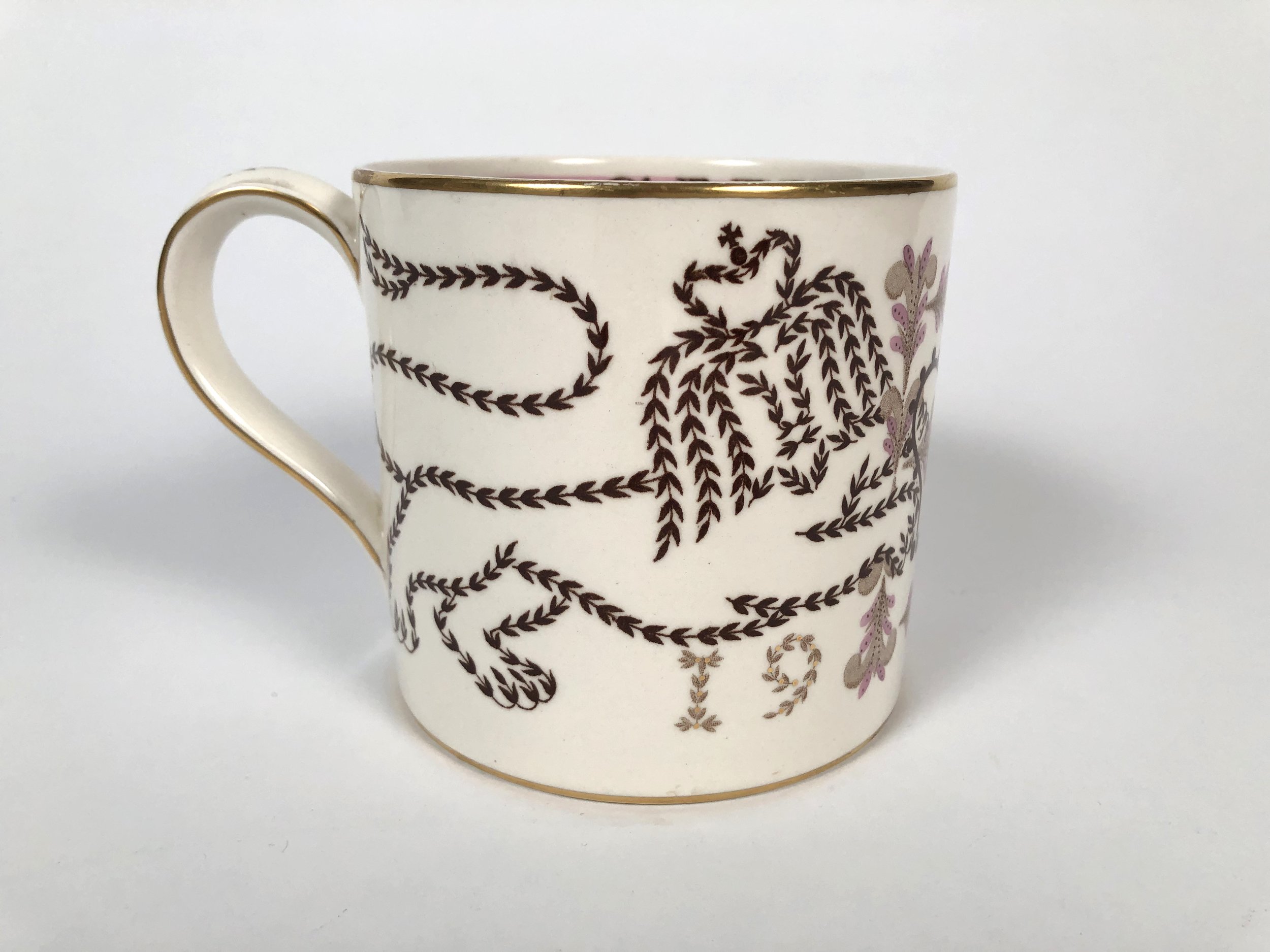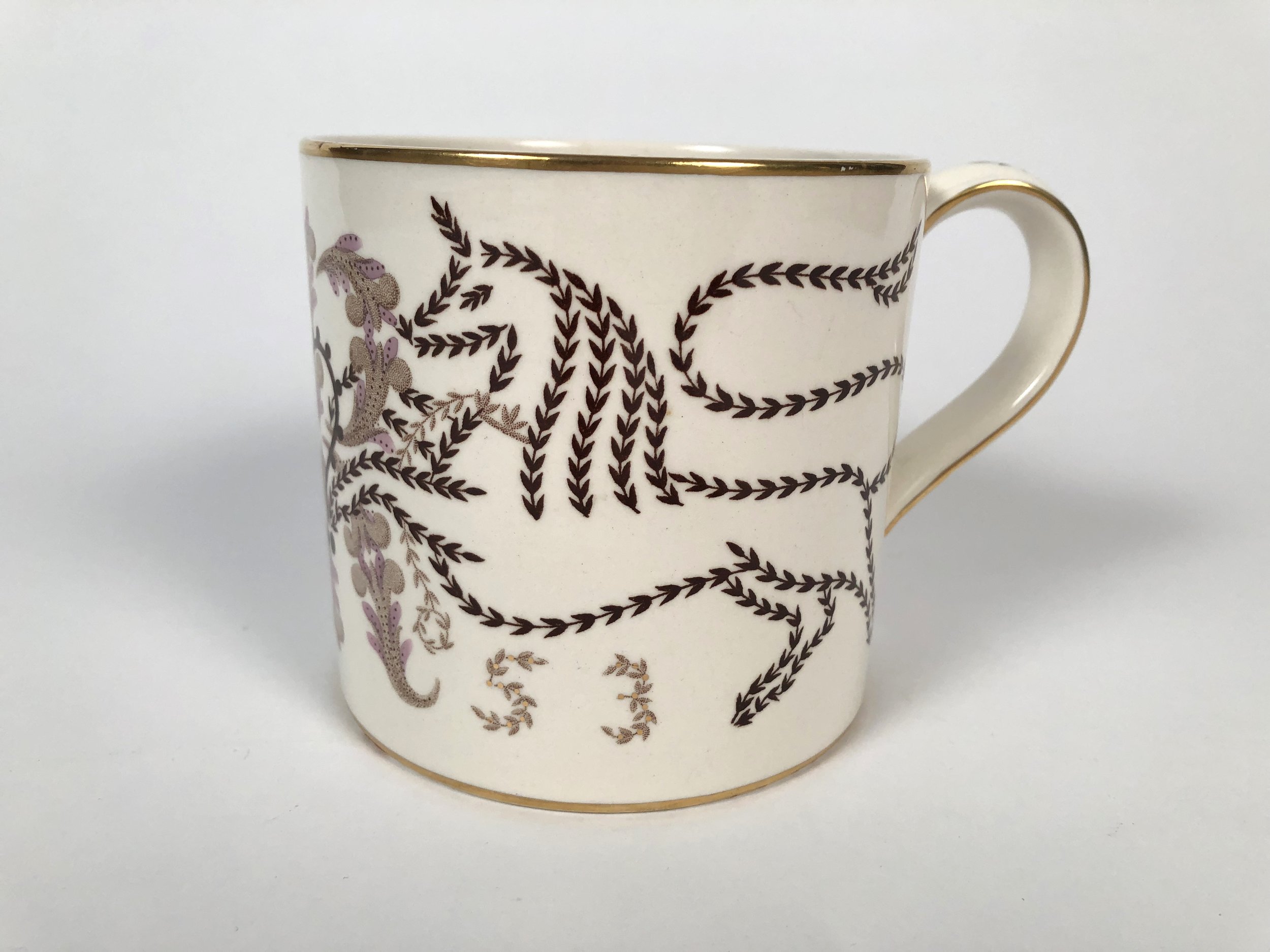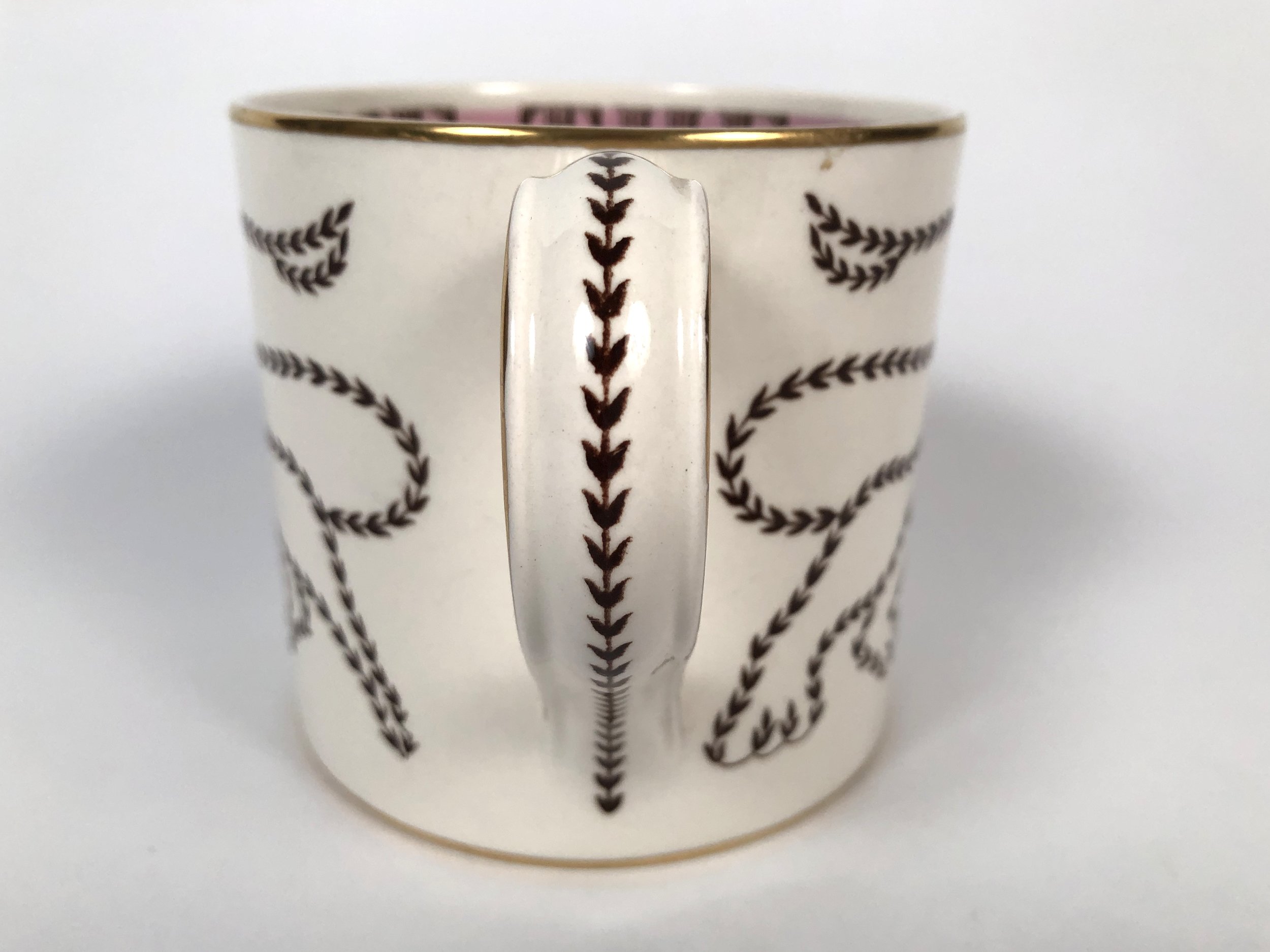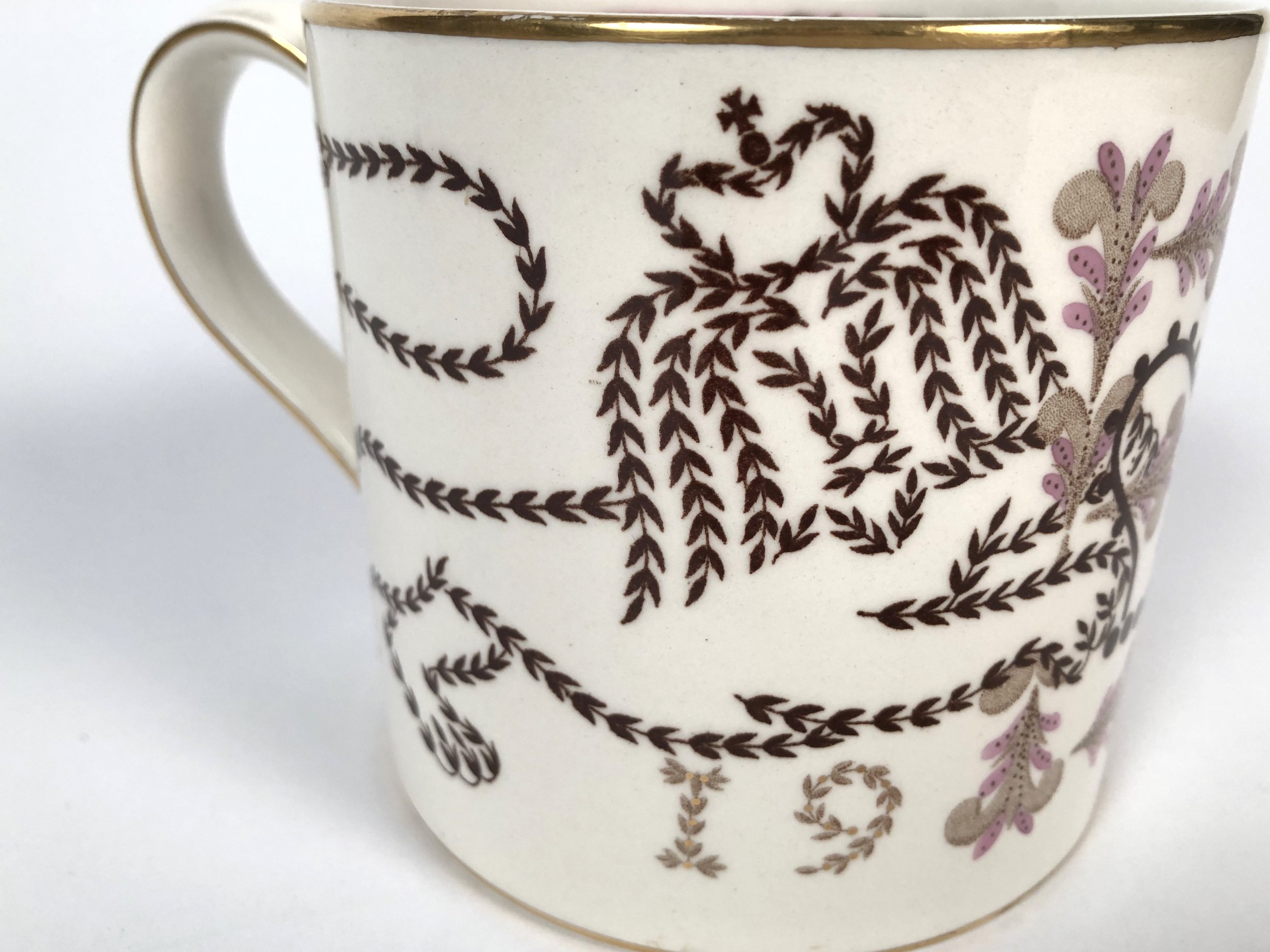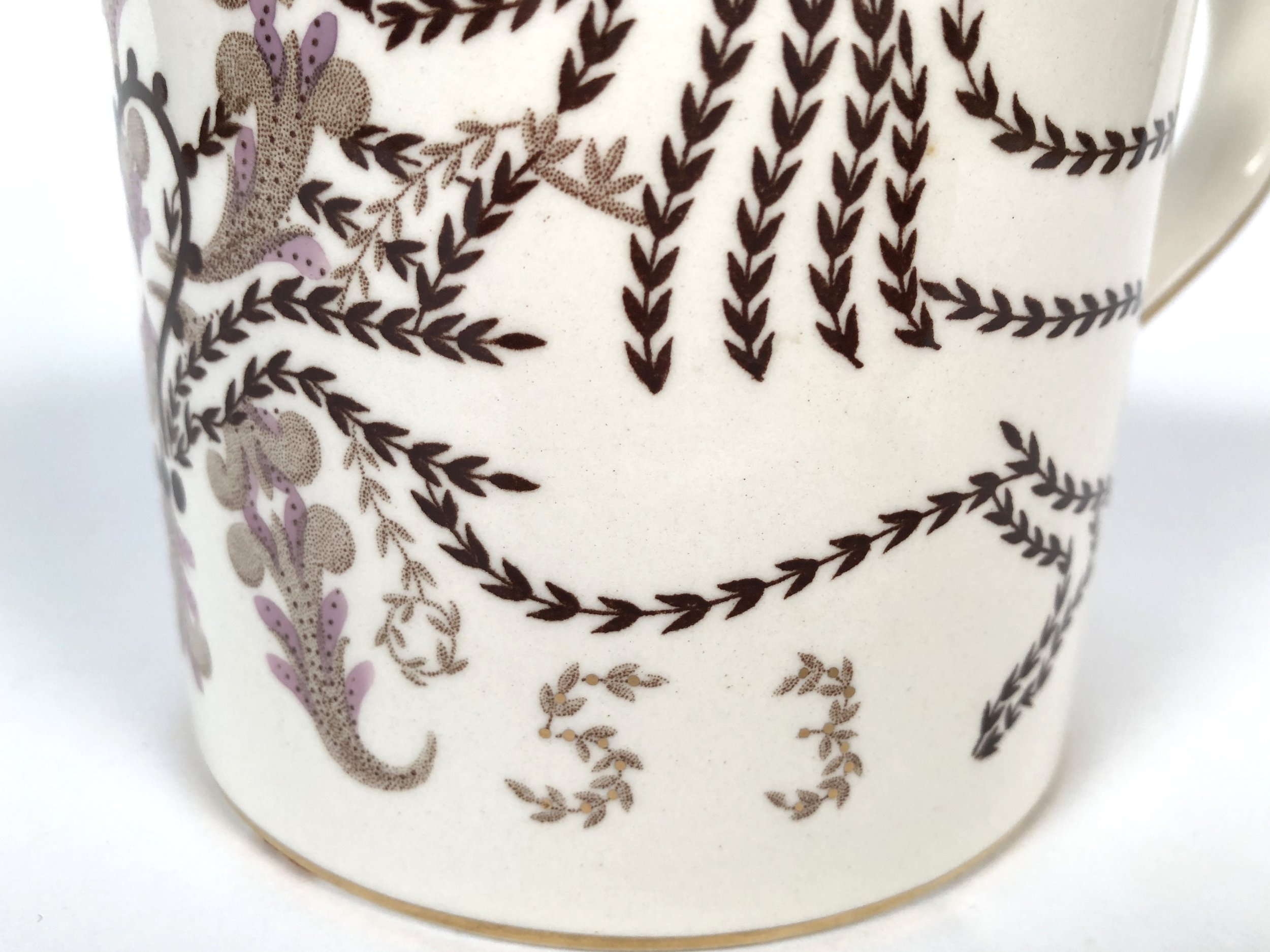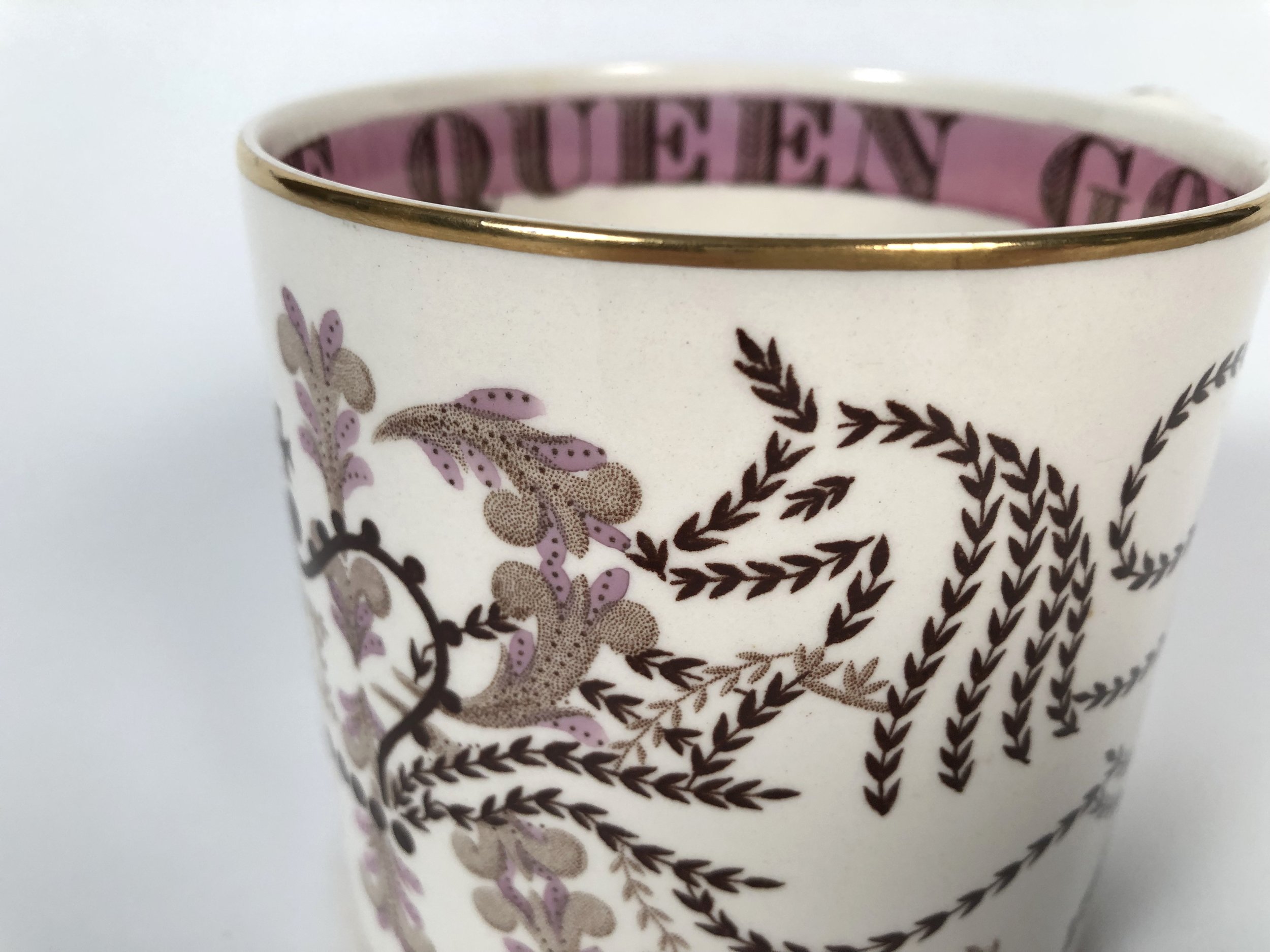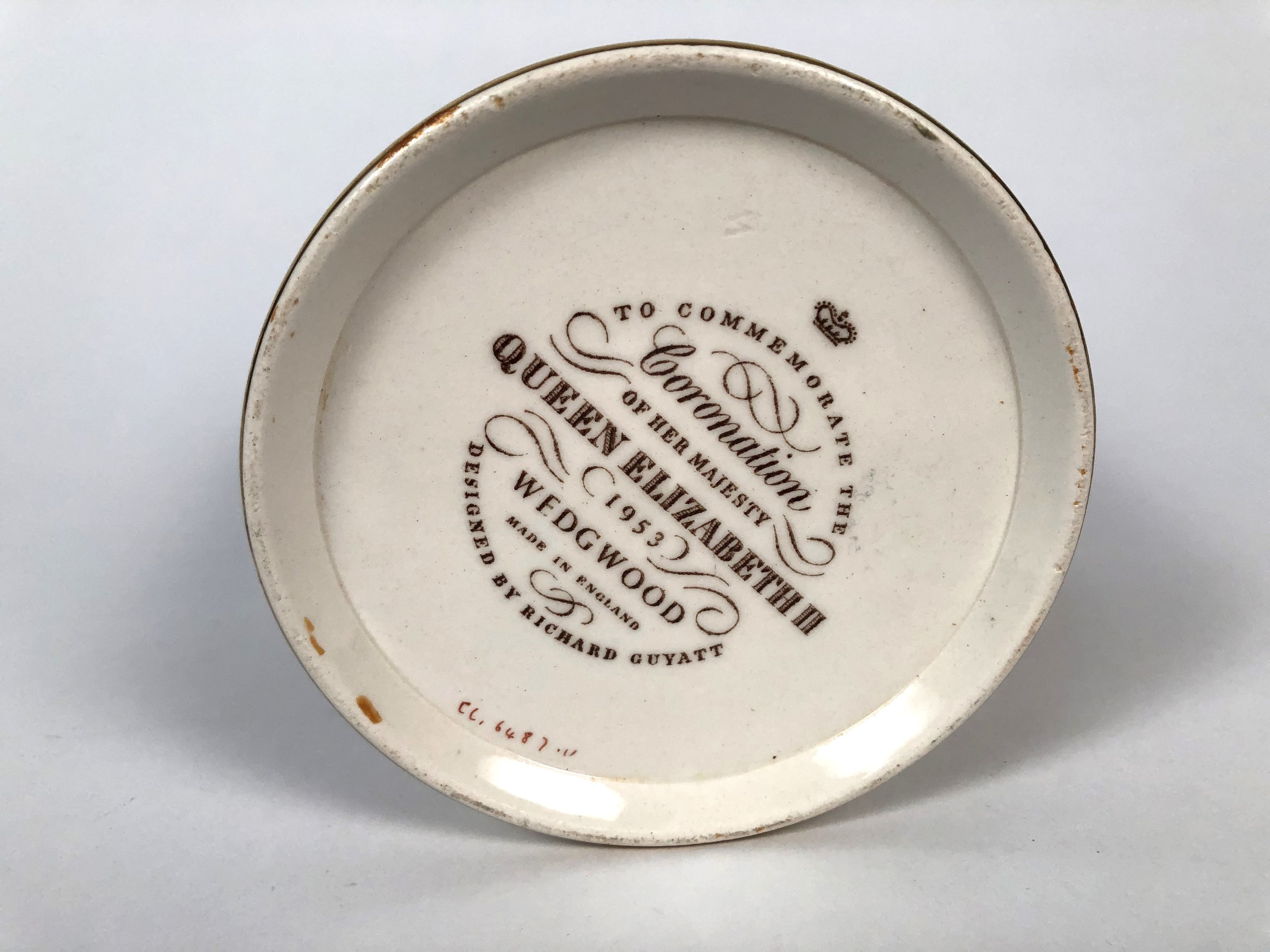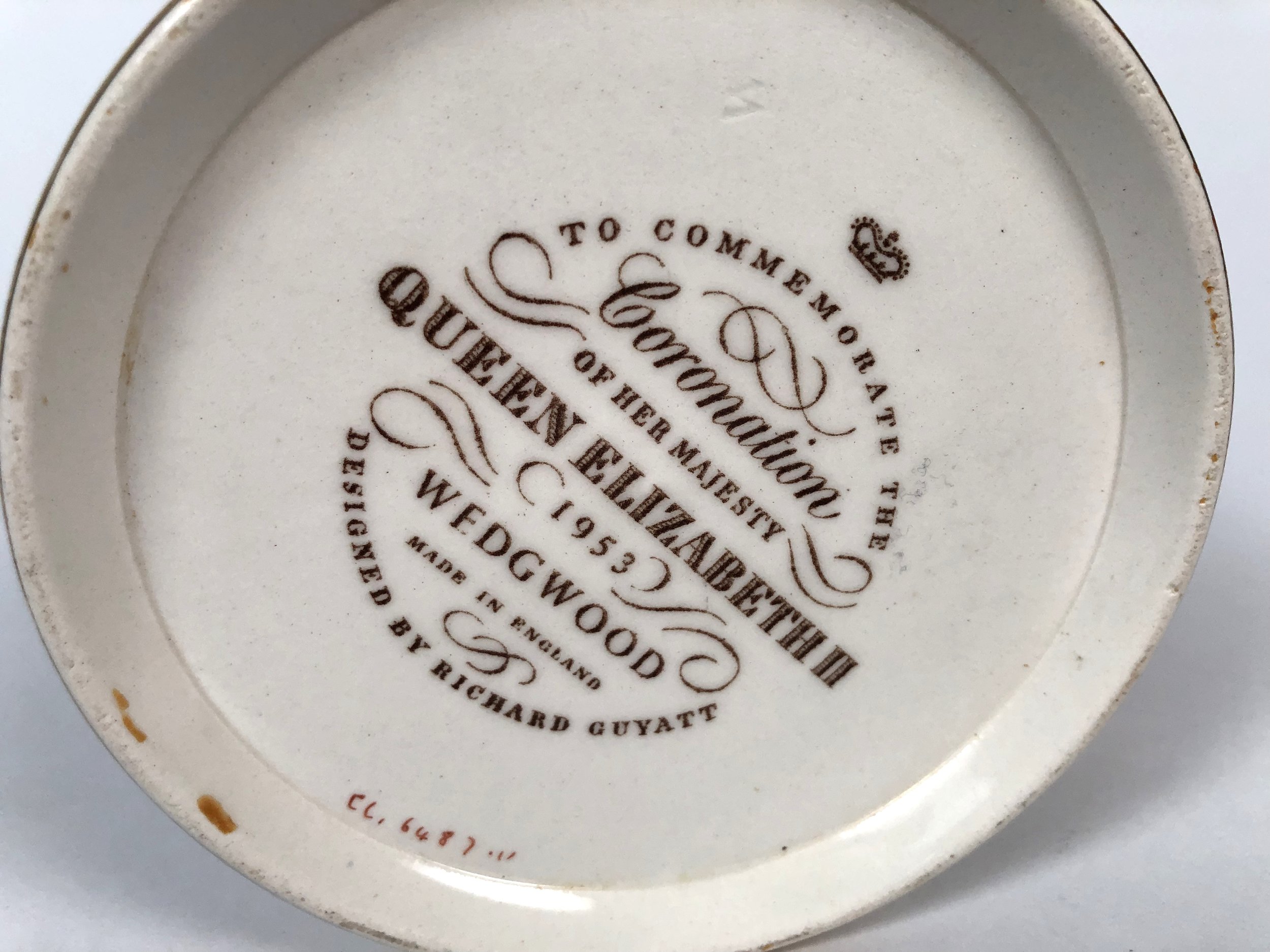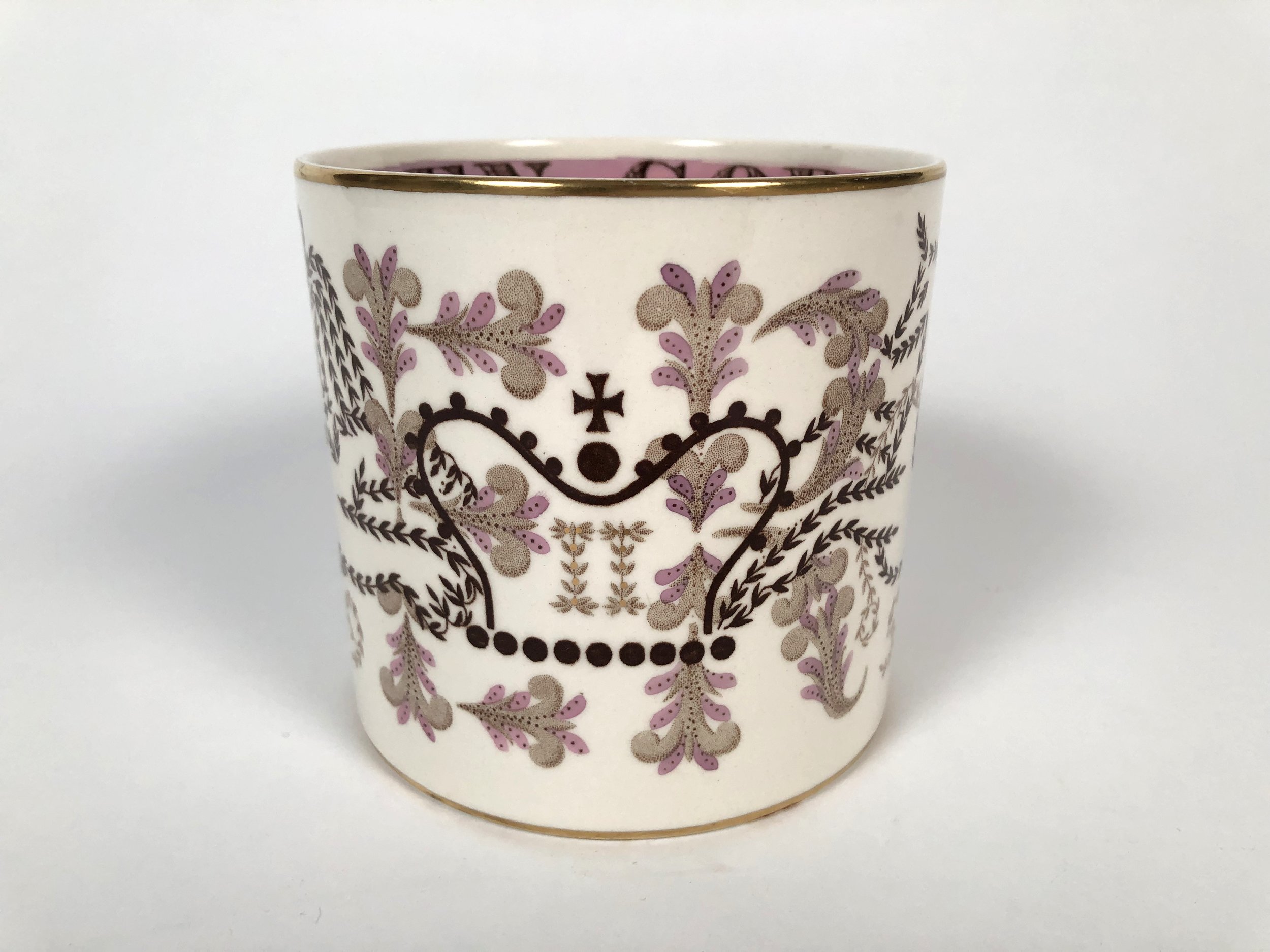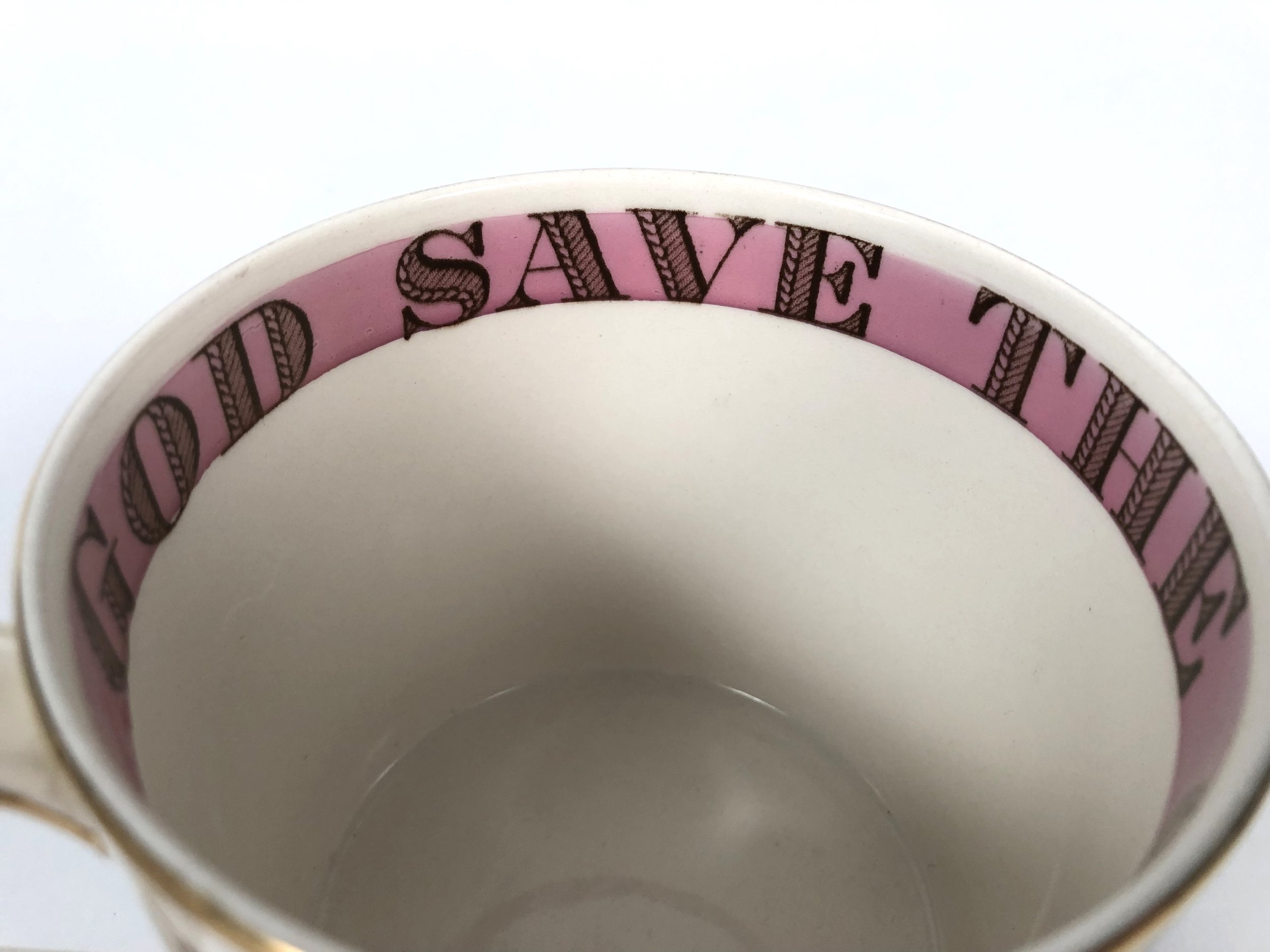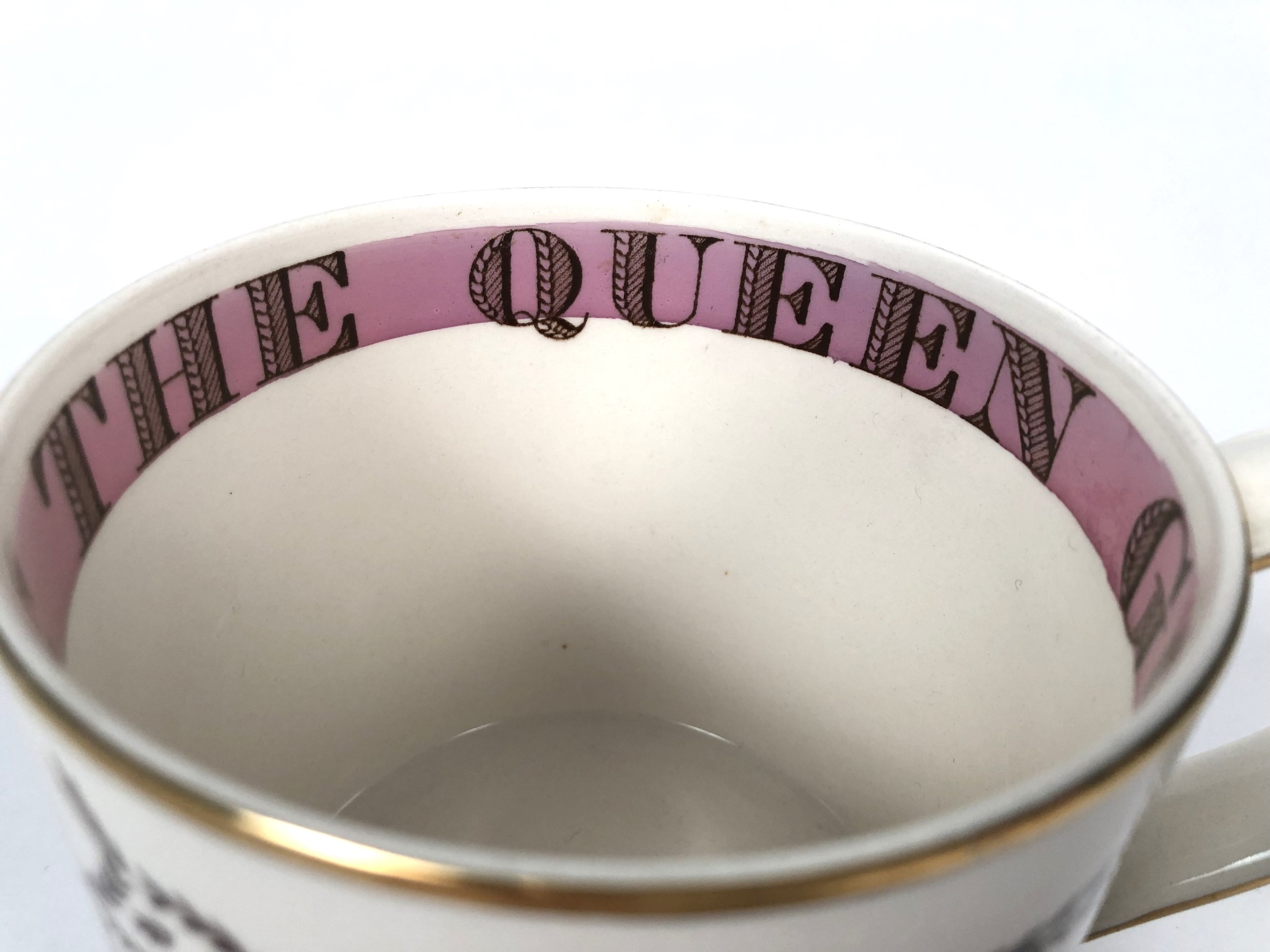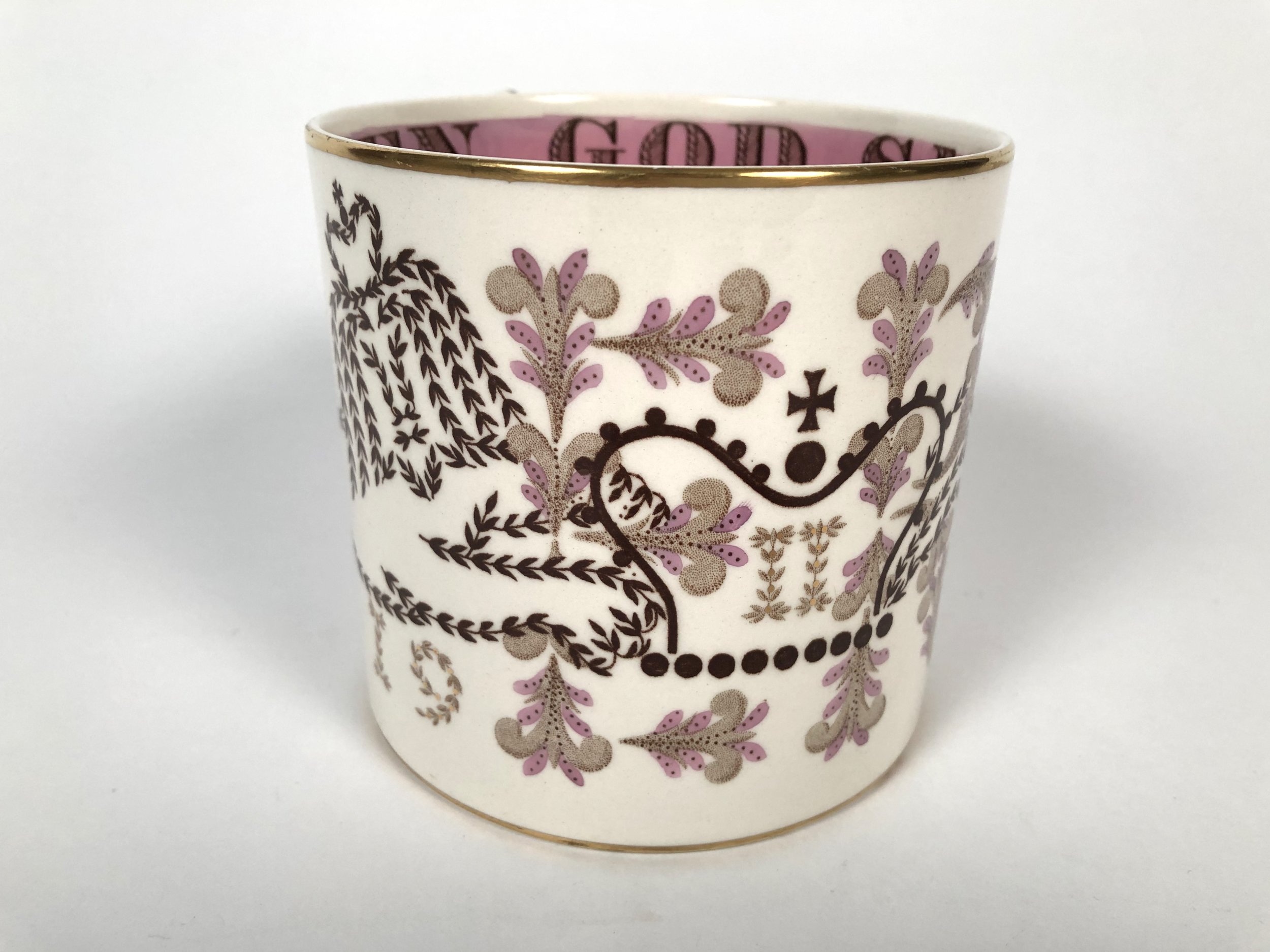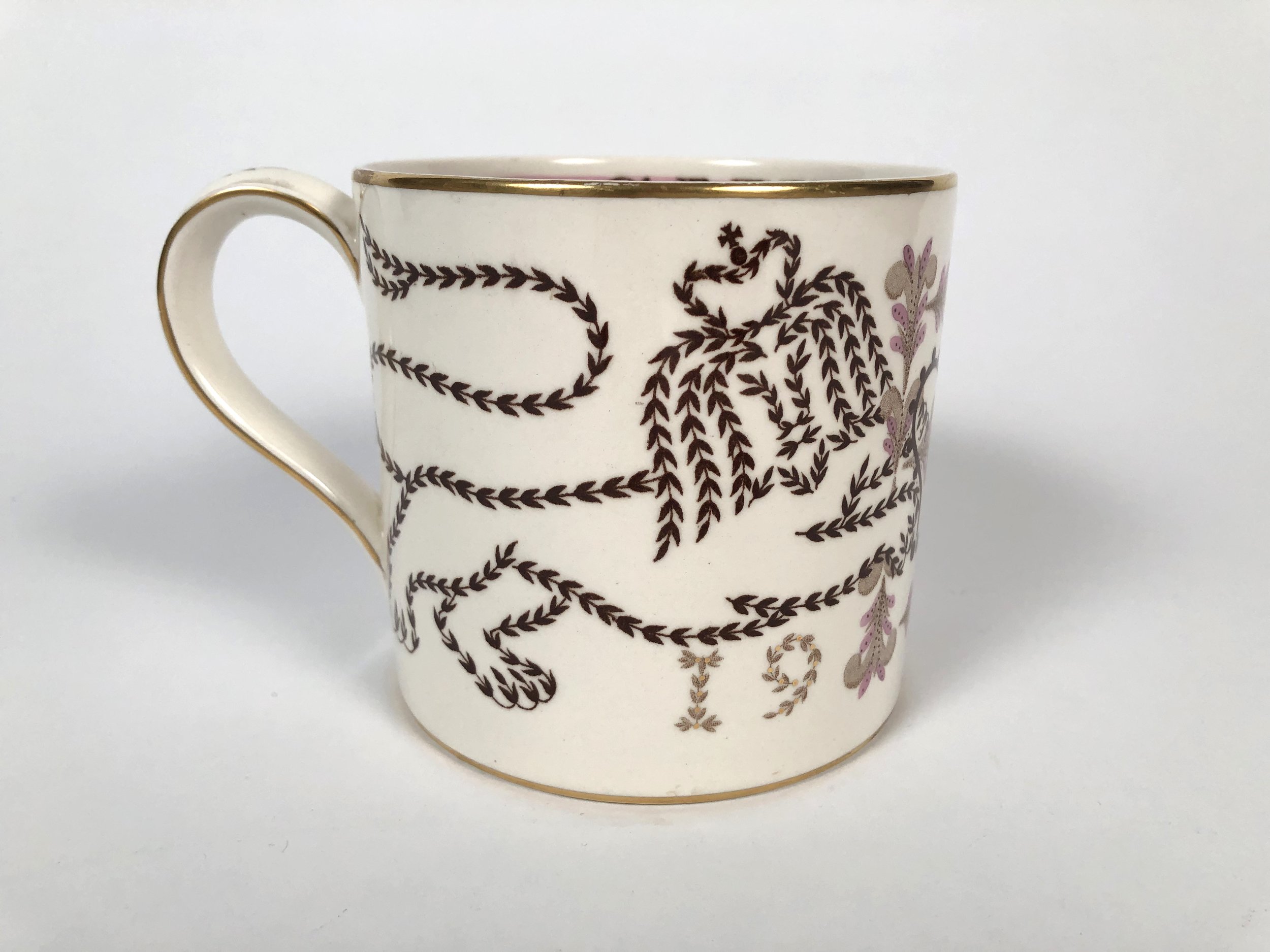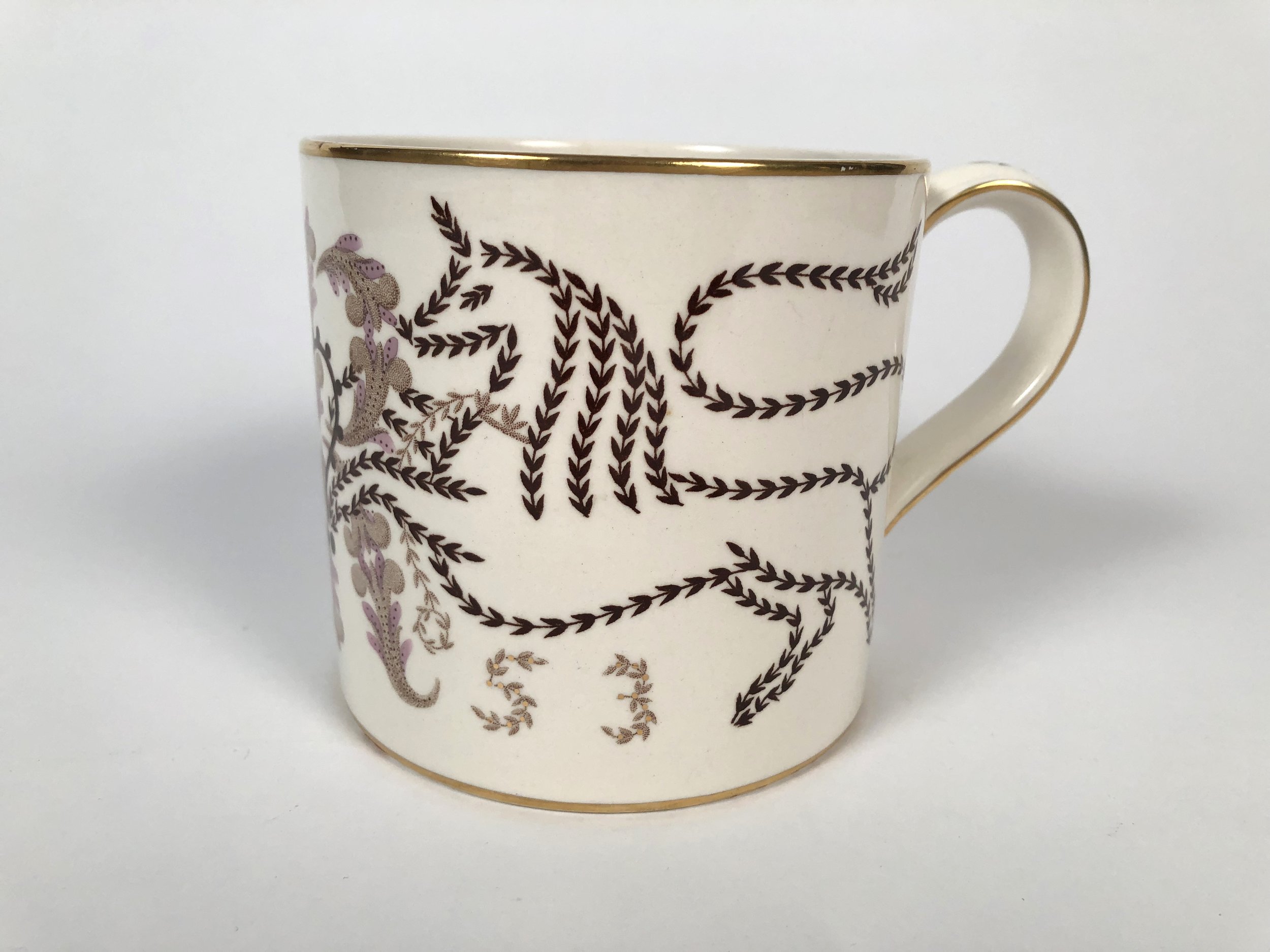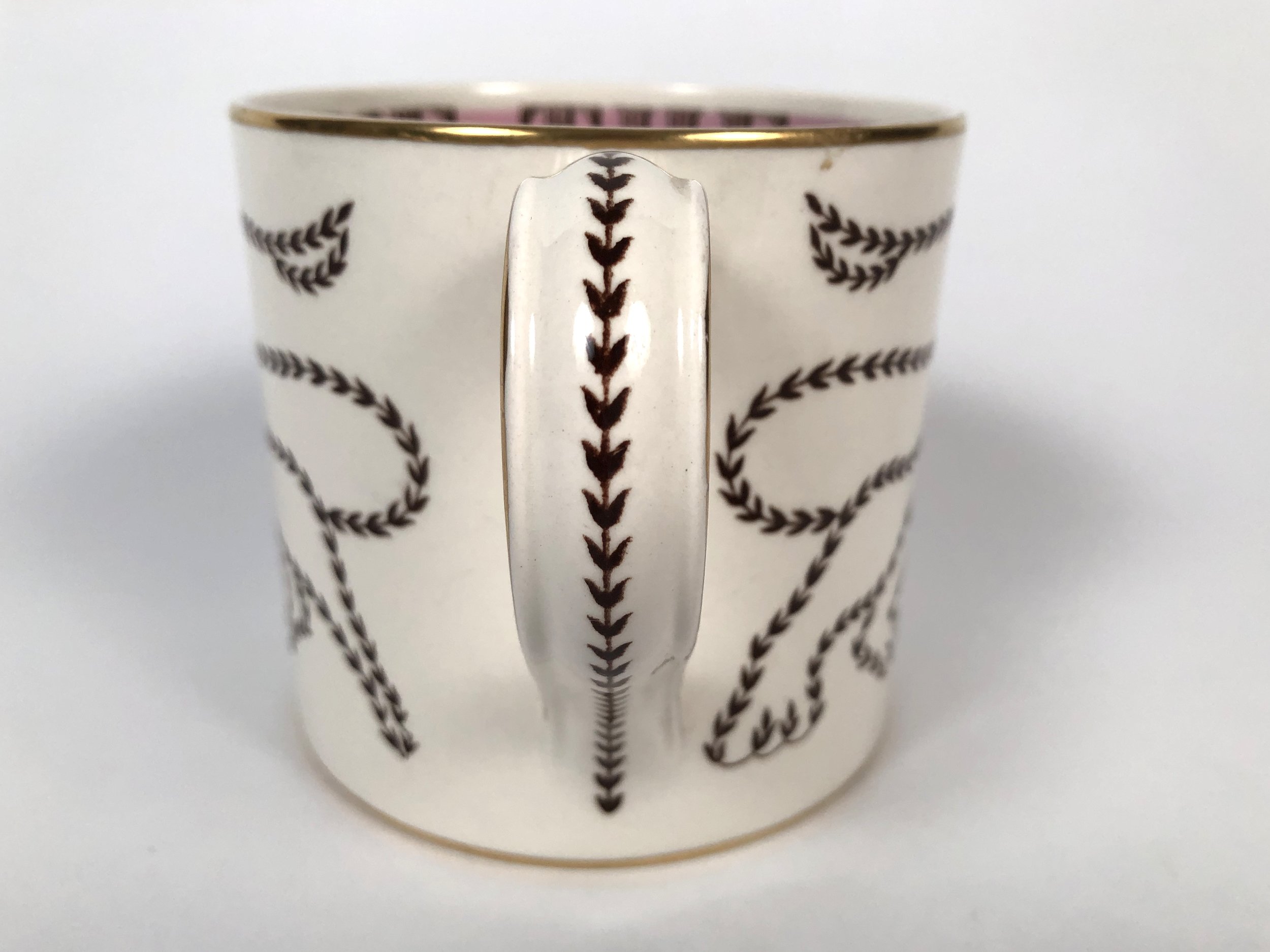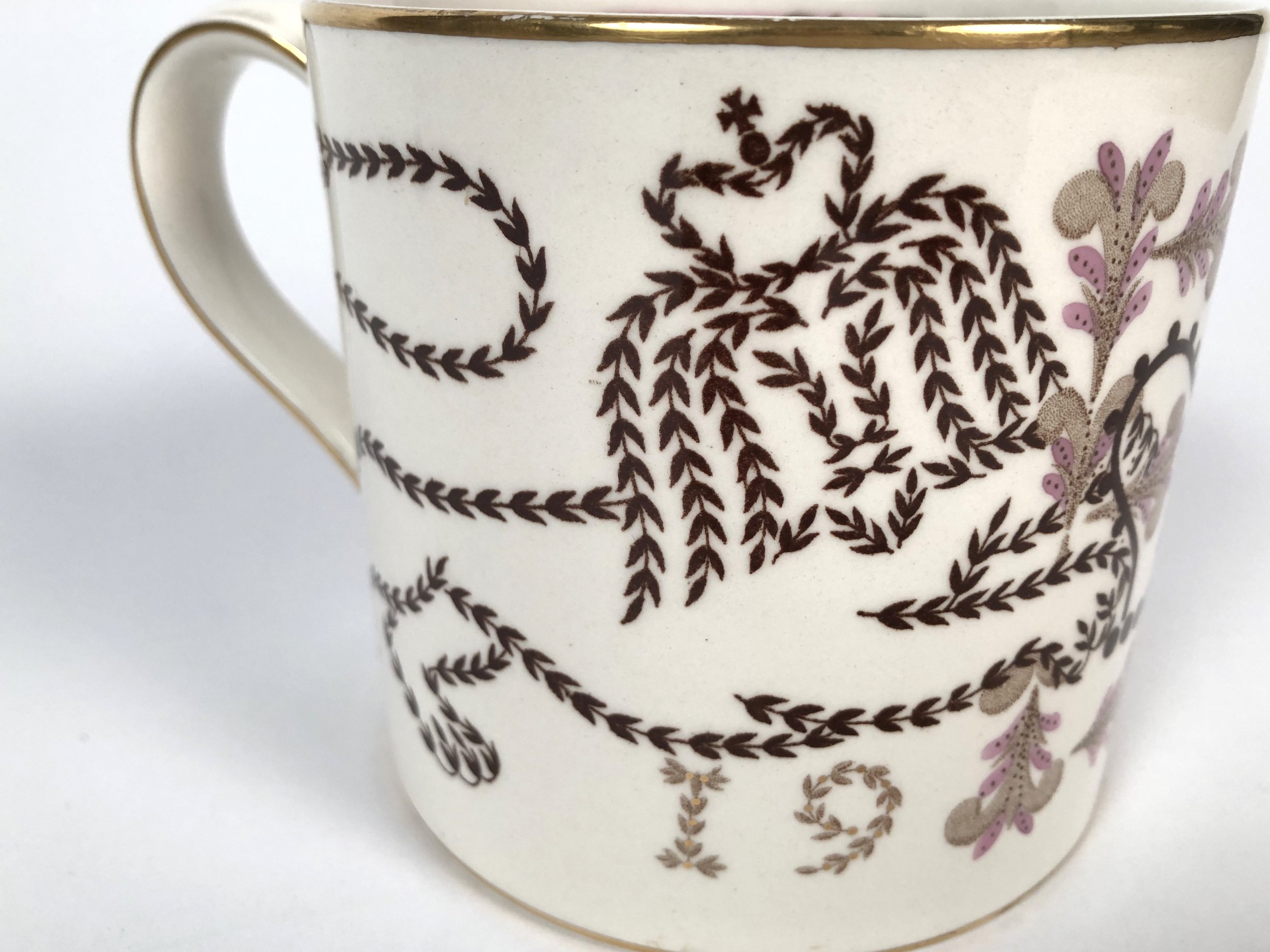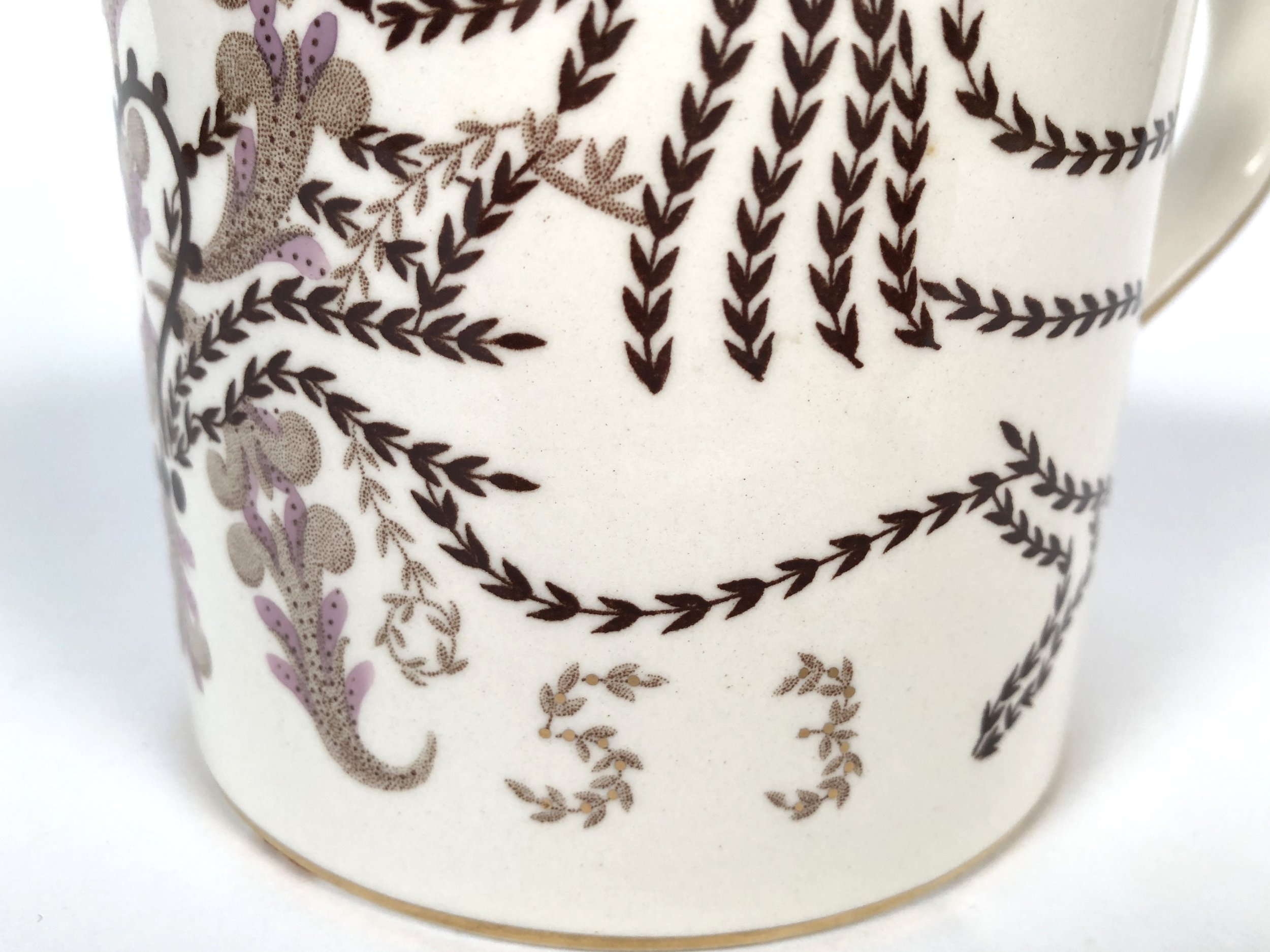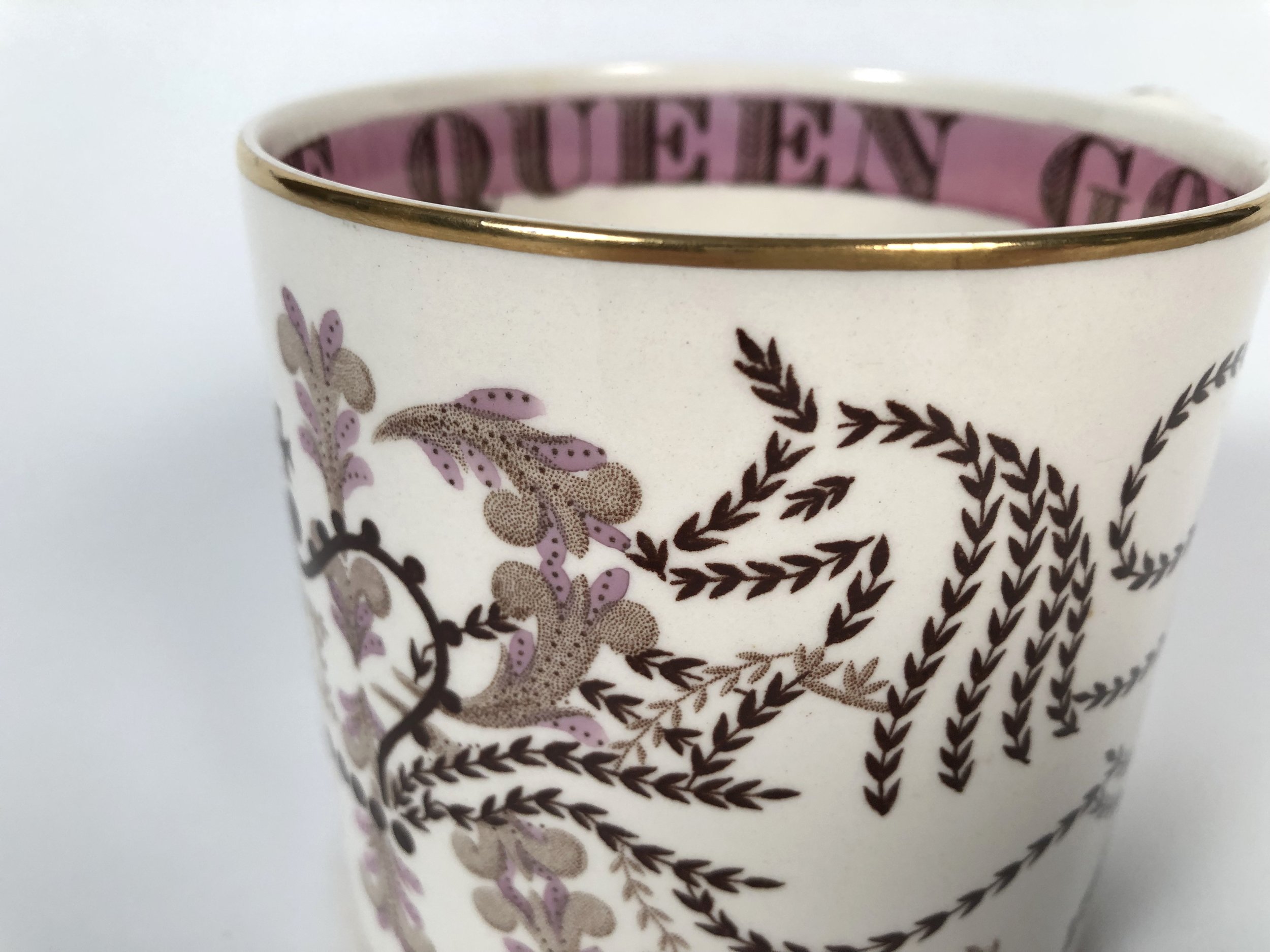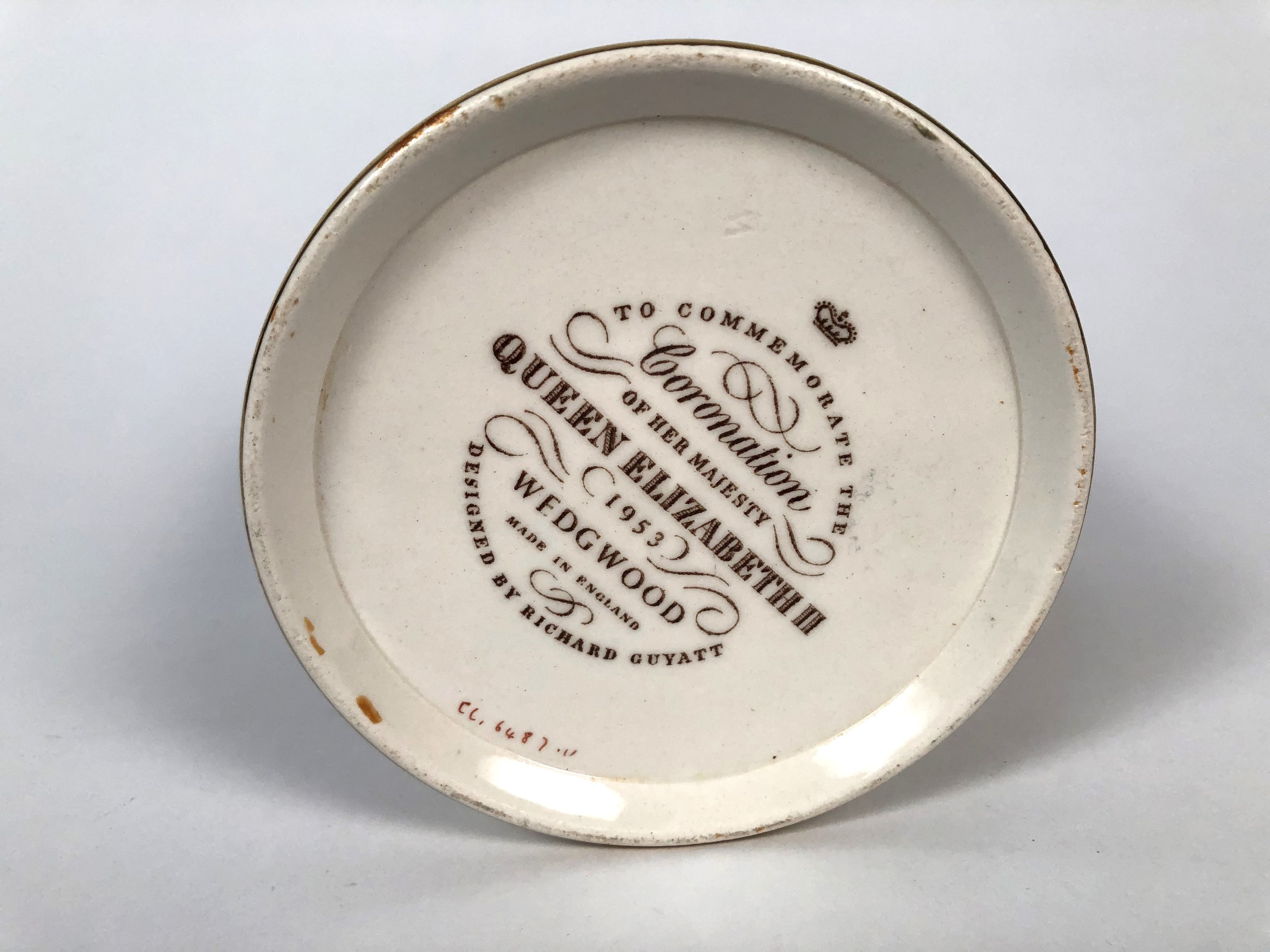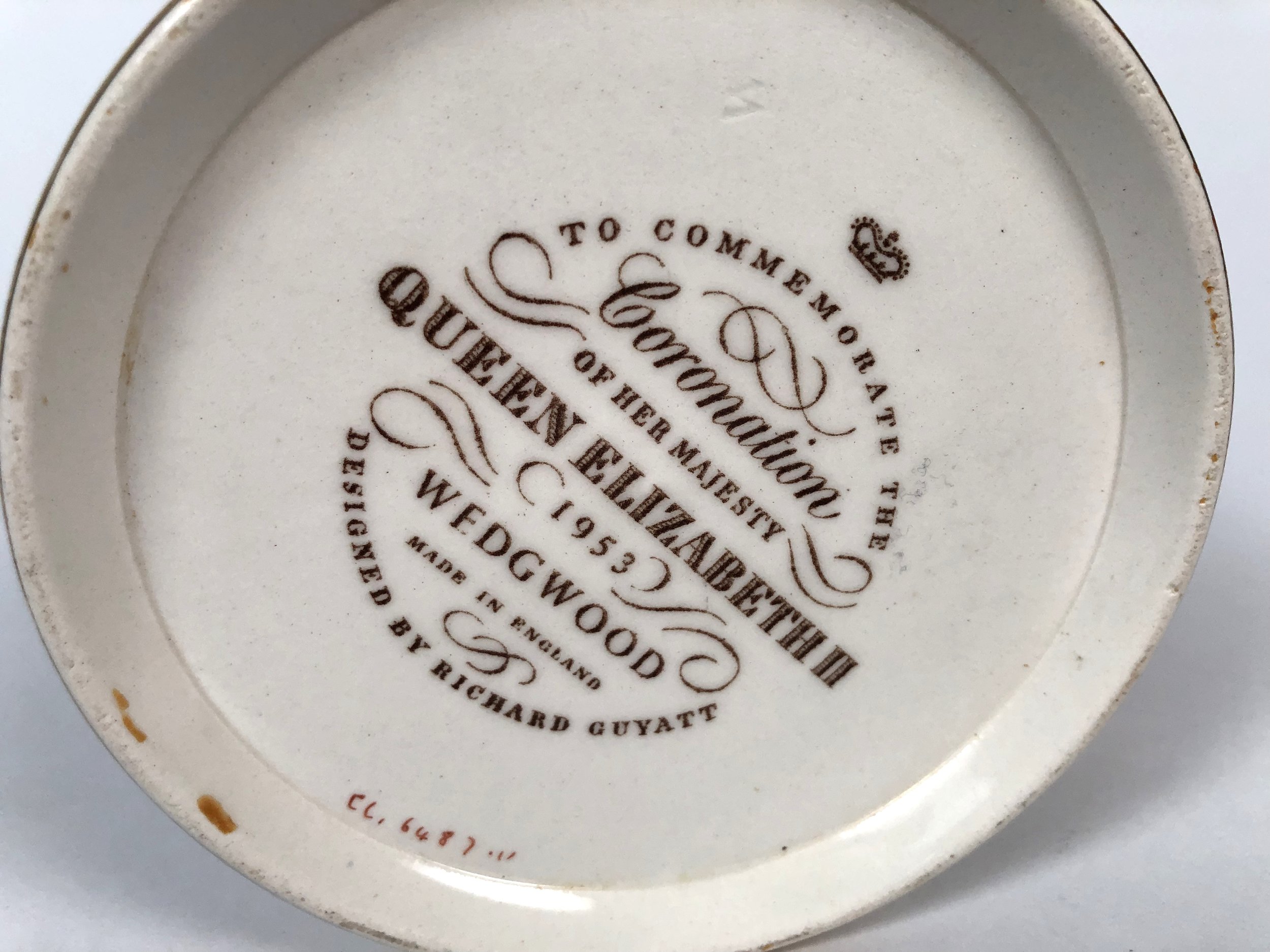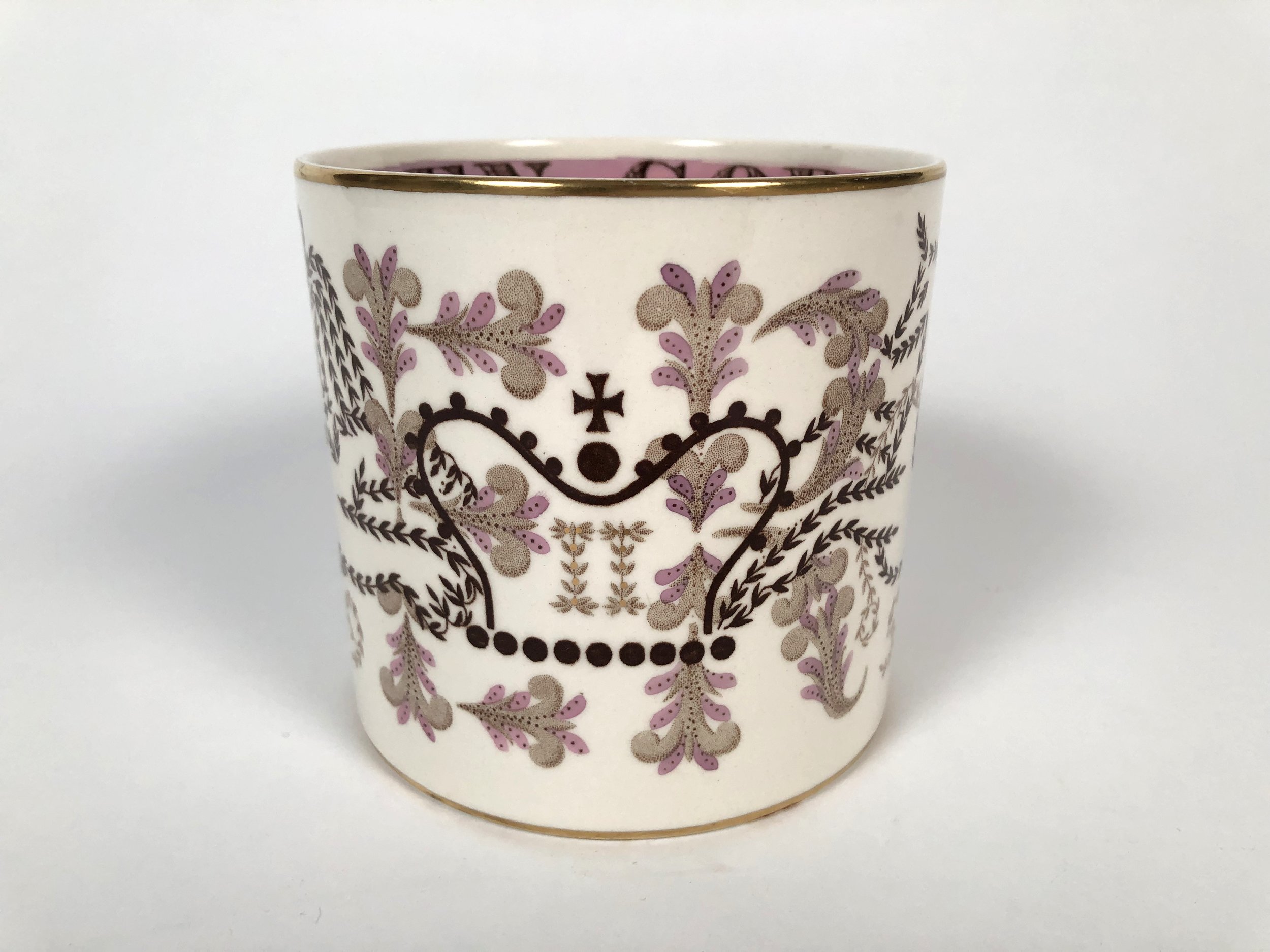 Queen Elizabeth II Commemorative Coronation Mug by Richard Guyatt for Wedgwood
A large and highly collectible 1953 Wedgwood Queen Elizabeth II commemorative coronation mug, designed by celebrated English graphic designer Richard Guyatt. In mint condition. The Staffordshire pottery mug features the stylized heraldry of English Royalty, with a lion wearing a crown and a unicorn, both delineated in brown bellflowers, flanking a graphically drawn crown, overlaid with a fancifully drawn ER II, in brown, tan, pink and gold. The year 1953 is drawn in floral numbers with gold dot highlights below the lion and unicorn respectively. On the inside rim is printed in large capital Shaded Roman letters, GOD SAVE THE QUEEN. There is a gilt pinstripe around the top and bottom of the mug as well as along both sides of the strap handle. The bottom of the mug is elaborately marked: To Commemorate the Coronation of Her Majesty Queen Elizabeth II 1953 Wedgwood Made in England Designed by Richard Guyatt Painted by hand underneath is the product number: CL 6487 Dimensions: 4" tall x 4.25" in diameter x 6" long including handle. This mug is a fabulous s=royal souvenir, but equally a significant of great English design which blossomed after World war II following the Festival of Britain.
Height: 4" Width: 6" Depth: 4 1/4"
$450
Information on the designer, Richard Guyatt:
Professor Richard Guyatt (1914–2007) was a British designer and academic who has been described as "one of the 20th century's most seminal figures in the world of graphic design".[by whom?] He was the youngest ever professor at the Royal College of Art on appointment in 1948, and was Rector of the Royal College of Art from 1978-1981. He worked for the Royal College of Art for 34 years, and also acted as consultant designer to Wedgwood, WH Smith and other British companies. Guyatt created coins for the Royal Mint and designed postage stamps for the Royal Mail. He was made a CBE in 1969. For the 1951 Festival of Britain, he co-designed the Lion and the Unicorn Pavilion. Sir Hugh Casson wrote on Guyatt's retirement from the Royal College of Art in 1981, ". . . all his life Dick Guyatt has readily accepted and punctiliously dealt with teaching, designing, consulting, illustrating, lecturing, administrating; bringing to each problem, however small, that same quality of the true professional, the ruthless determination to achieve by rational methods aims that have been conceived in passion." In 2000 he was awarded the Sir Misha Black award and was added to the College of Medallists.[1] Gerald Beckwith, writing in The Independent after Guyatt's death, said "He was one of our last remaining examples of a genuine Edwardian gentleman, to whom the qualities of duty, fidelity, truthfulness and manners were paramount. To the end he practiced all these with a lightness and impeccability of style entirely his own.".