SOLD--Rare Pair of Wedgwood Water Lily Dishes from the Darwin Service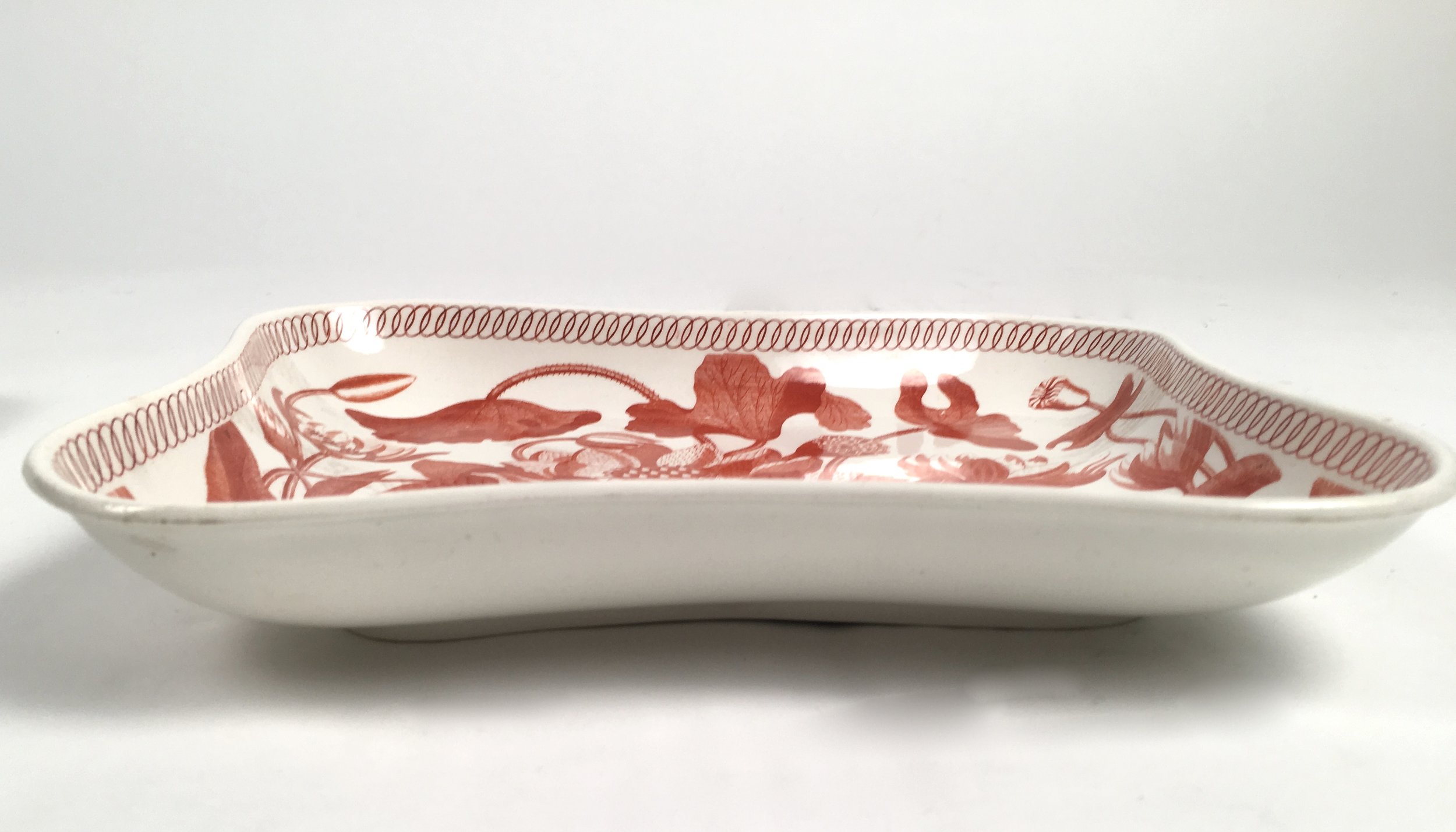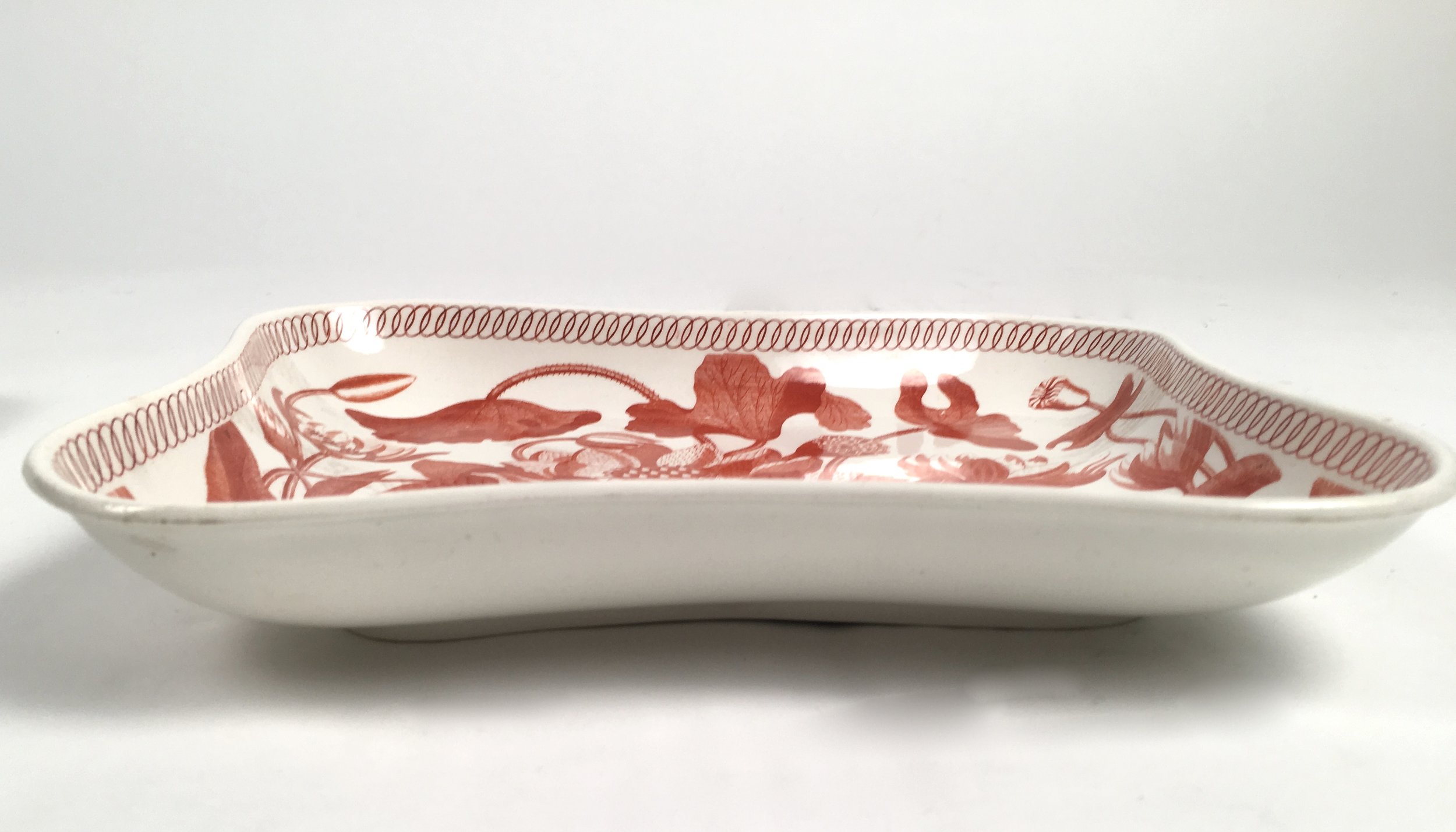 SOLD--Rare Pair of Wedgwood Water Lily Dishes from the Darwin Service
A rare pair of dessert dishes in the Water Lily pattern from the Darwin service, designed in 1806 and made only during a three year period, from 1808-1811 by Josiah Wedgwood and Sons, in earthenware, transfer printed in iron red with large, crisp and graphic botanical composition with water plants (Nymphaea stellata, Nymphaea lotus, Nelumbium speciosum – now known as Nelumbo nucifera), derived from prints in the Botanist's Repository and the Botanical Magazine 1803-1806, with borders of interlocking oval rings. Impressed Wedgwood mark on the bottom of each, together with later inventory numbers and retailer labels from B. Altman, New York.
Height: 1 3/4" Width: 10" Depth: 8 1/4"
The Wedgwood design actually takes elements from three different illustrations. Most of it, including the middle, comes from the illustrations of 'Nelumbium speciosum', the Sacred Lotus of the Buddha, published in February 1806. But the background fill on the left comes from the illustration of the Starry water lily, 'nymphaea stellata', published three years earlier. And a bit of fill on the right comes from a third illustration the Lotus of Egypt, 'nymphaea lotus', published in 1804. Botanical painting on china had been the fashion for almost twenty years, but this was the first time that printing was used for accurate botanical decoration. (Source: Victoria and Albert Museum, London, UK) History of the Darwin Wedgwood Connection and the Printed Source Material for the Water Lily pattern: John Wedgwood had inherited his father's scientific interest, but through Erasmus Darwin and his son Robert Waring Darwin, he had become interested in plants. In 1794 he was elected a Fellow of the Linnaean Society. After his father died the following year, he bought himself a country house, Cote House at Westbury near Bristol. He was an inactive partner in the pottery and also in a bank. He spent his time on horticulture. The gardens at Cote House became so well-known that the King's gardener William Forsyth came to visit and exchanged advice and information. In 1801 John proposed to Forsyth the foundation of a Horticultural Society. Three years later he presided over the inaugural meeting of what was to become the Royal Horticultural Society. In March 1806 he was succeeded as Treasurer by his friend the Rt Hon Charles Greville. The water-lilies grown by Greville in his hothouses at Paddington Green were celebrated, and it was one of his specimens which was drawn by Sydenham Edwards for the illustration of the Sacred Lotus of the Buddha in the Botanical Magazine. As we have seen, this was published in February 1806 and by the autumn of that year Wedgwood's engravers were using it to make their pattern. John Wedgwood's special interest in all this makes it highly probable that the water lily design was his idea. (Source: National Museums Liverpool, UK).